With offers day having been and gone, and September fast approaching, many parents (and children) are beginning to feel anxious about the move to "big school"! For the last 8 years, I have been a Reception Class Teacher- the smiley face at the gate, telling parents it will all be fine and your children have forgotten about the upset as soon as you have left the building. It is all true! Most children are resilient and the anxiety of separation is short lived, but as a parent, I know that taking my own advice is not that simple. With that in mind, I hope that these hints and tips will help you and your little ones feel more prepared for what is to come as children get ready for school.
Ready for School: Academics
Let's start with the easy one… academics!
I am always asked (my class is a mixed age nursery and reception), "What do I need to teach them ready for next year?"
My answer is always… nothing! Honestly!
The main thing to hold in mind here is that the curriculum for children in their reception year remains the same as when they are at nursery. They are still in the 'Early Years Foundation Stage' and that in itself means that that they will be learning through play and experiences and (hopefully!) not sitting at tables writing lines of dictated words.
If your child is showing an interest in numbers… great! Count with them, talk about patterns and shapes, go on scavenger hunts (find me two sticks, etc.), build wonderful constructions with blocks and shapes.
If they want to write their name or are interested in letters… wonderful! Encourage them to use a pencil, encourage them to write letters and cards, shopping lists or stories. Remember much of this will be squiggles, lines and shapes with some random letters- this is exactly what we would expect, and as Reception teachers, love to see. It is known as "emergent mark making" and it is one of the main reasons I love being a Reception Teacher in the Autumn Term.
Your little one loves reading… fantastic! Read to them, let them choose and handle books, talk about characters, settings, pictures, and the plot, retell the story together or allow them to make up their own with the pictures.
I make one exception here… I would like all children to be able to recognise their own name and even attempt to write it. It helps them and us immeasurably if they can find their own book bag, coat peg, etc.
Ready for School: Physical Independence
In my opinion, this is one of the most important factors when a child starts Reception…
Can they put their own coat on? Then zip it up?
Can they take off and put on their own shoes? (Velcro is a must!)
Are they able to use scissors safely for cutting?
Can they use cutlery in the dining room?
Can they change for PE independently?
How well do they handle their own hygiene throughout the day? E.g. handwashing, toileting, wiping their own nose, etc.
As parents, we all, myself included, want to help our little ones as much as possible, but in those last few months before the move to school, we want to know that they will be physically ready for the demands of the school day.
Ready for School: Social Skills
This year, this is more important than ever. Many children have found their social interactions lessened by the constraints of lockdown and BBC Children in Need's report, June 2020, suggested that crucial social interaction opportunities are being missed and children may need additional support to reintegrate into preschool and nursery.
I am hopeful, that most children have now been able to safely return to their usual preschool setting and are gaining more and more positive, supported, social interactions. However, I am aware that the need for "bubbles" and the lack of groups and additional activities due to lockdown is continuing to influence the amount and scope of children's social interactions. This is a huge challenge and one, that as Early Years professionals, we are ready to face. As a parent, simple things you can do at home are; turn taking during games; the encouragement of sharing with siblings or you; and playing games with simple rules that they can follow e.g. hide and seek.
Ready for School: Managing Emotions

Understanding and managing emotions is probably the most difficult and important part of transition to "big school". Children (and parents!) are often feeling very excited but, understandably, nervous about the new environment and what the expectations will be. Talk to children about how they are feeling, support them by validating their feelings "Oh yes, remember when you were worried about going down the big slide, but how good it felt when you had done it" "Mummy felt nervous about starting her new job too". It is good to help children to have a good vocabulary to talk about their emotions and you could do this by reliving times where they have experienced new things or been new places and that it was not such a worry afterwards.
There are many books and stories to help children prepare themselves emotionally for the new experience they are about to embark on and these can be helpful in starting a conversation about school.
Your child may also find it helpful, if you live close enough, to walk past the school and look at where they might go in, the route you may take, etc.
Another key component is a child's ability to express themselves, children who have communication difficulties, may easily become frustrated and upset if they are unable to make themselves understood by their peers and the adults in their classroom. Talk to your child lots and support their communication development by making the expectation that they ask for the things they need, often as parents, we know with non-verbal cues and gestures, but it is important that in the classroom environment, children are able to express themselves easily. Of course, if you have any concerns or know that your child may have difficulties with this, giving the teacher, the heads up will help them support your child to settle in and understand their needs.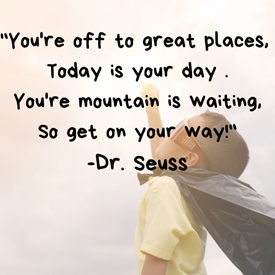 Starting school is a new and exciting adventure for children and the chance for a hot cup of coffee for their carers!
You might find my Ready for School Workshop useful. Download it here.
Good Luck!
Emma x