Do you have a child starting school in September?
Having spent the majority of my teaching career in Reception and Year One I have welcomed a lot of "new starters" into my class. I also have two daughters of my own who are now at primary school, with one starting pre co**d mania and the other starting just last year (right in the midst of the pandemic!). The question parents ask me most is "What do they need to know?", so hopefully this post will give you a little bit of support and some practical tips to help get your little ones ready.
A bit of background…
Without going into too much detail… The Reception Year is a continuation of the education that children have experienced in nursery or preschool- the Early Years Foundation Stage or EYFS. Whilst there are lots of maths and literacy activities that support children's development (see below for my support packs), the curriculum when children start school in Reception doesn't start with this. Instead it focuses on the 3 PRIME AREAS of learning:
Communication and Language Development
Personal, Social and Emotional Development
Physical Development
These areas of learning are vital for everything else, they are the foundations of learning and need to be embraced to ensure that children have a good base to move on in their educational journey.
Starting school is a huge step in children's and their parents/carers lives. It involves new found freedom for both of you. When I got to thinking about the key things I noticed in my own children these were the main things I noticed from them- but there are many more.
Practical Tips for Starting School
This post has been written and rewritten so many times… I wanted the tips and advice to be practical and manageable. Firstly, here are my top 6 skills for starting school…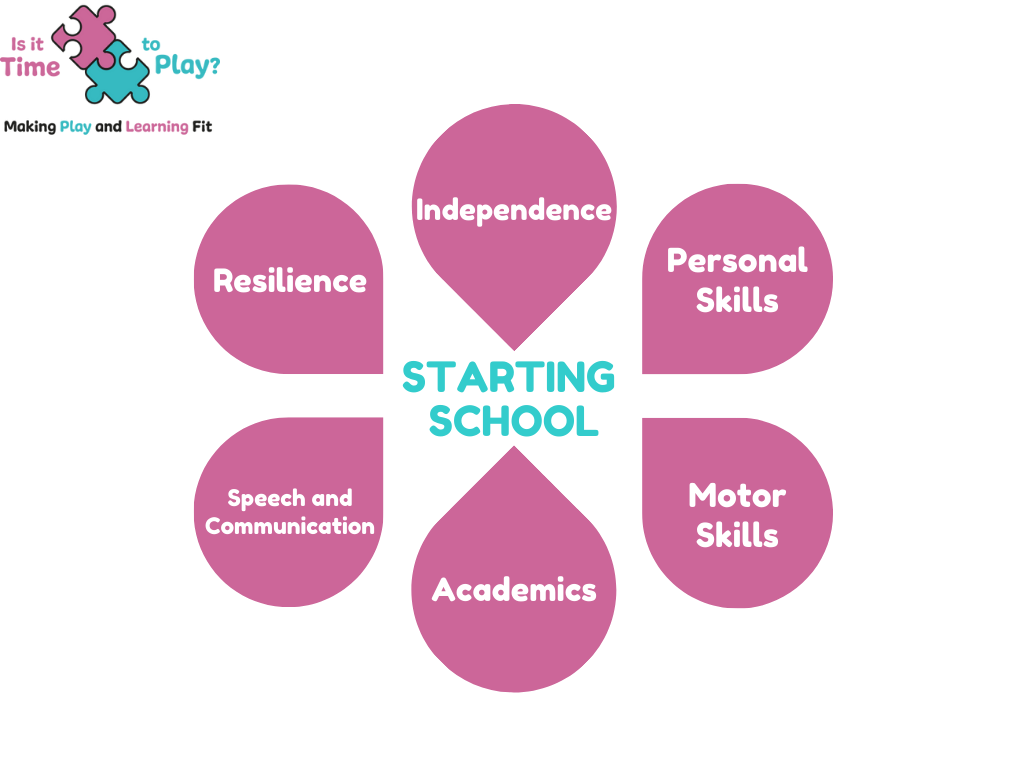 https://isittimetoplay.co.uk/downloads/starting-school/
https://isittimetoplay.co.uk/downloads/starting-school-bundle/
Independence
Children need to develop their independence- it really is the key to starting school successfully. Now I'm not talking complete independence like making their own dinner (although some days I think that would be nice)! I'm talking about basic independent skills that will allow them to function throughout the school day without feeling frustrated or overwhelmed.
Practise…
Putting on and fastening a coat
Putting on and taking off shoes and wellies. Then leaving them together and stored safely.
Changing into a PE kit, leaving their clothes all neatly together. And back into school uniform, putting the PE kit away.
Toileting- the full works. Children need to communicate their need for the toilet, use it independently, wipe their own bottom and then flush.
Hand Washing
Using cutlery. Many children can't operate the full knife & fork combo, but as long as they are using their fork and spoon then school will be happy.
Carrying lunch. Lunch is (often!) served to children on a plate or tray for them to carry to the table themselves- this is a great skill to practise at home.
Personal Skills
During the day children will be interacting with lots of children and a variety of adults.
Sharing. Children will be sharing resources with their peers, they'll probably have worked to develop these skills at preschool/ nursery, but it never hurts to have a top up at home.
Taking Turns. There's often 20- 30 children in a reception class, so taking turns is a really important skills to develop. By playing turn taking games at home you can build your child's ability to wait patiently for their turn.
Waiting. This is hard (for children and adults)! At school, there is often lots of needs trying to be met all at once… children need to develop their ability to wait (a short amount of time) for their need to be met (unless of course it is urgent!)
Resilience
Try, try and try again!
It's a skill I try to build in all the children I have taught, whether they be Nursery, Reception, Key Stage One (and even beyond- yes I've stepped into the alternative world of Year 5 and 6 before too!).
Supporting your child to begin to build their resilience before they start school is a really good idea. Simple things like asking them to "give it another go" when they are doing a puzzle or giving them the opportunity to try two or three times before you step in to help. One of my favourite quotes fits perfectly here…
When you: Cut it for me, Write it for me, Open it for me, Set it up for me, Draw it for me or Find it for me, All I learn is: that you do it better than me

Anonymous
In short- let them have a go and always encourage your child to try again!
Speech and Communication
I'm sure you'll have read/ seen/ heard that the changes to the curriculum for our youngest children now has a much greater focus on children's speech and language skills. You have also probably heard that children starting school, post pandemic, have lower communication skills than previous cohorts. And that is absolutely to be expected… baby groups were cancelled, nurseries closed too many and parents were juggling child care, household duties and home working… it impacted us all! Schools are ready and prepared to support children with their speech and language development and put in place additional support where necessary- so DO NOT PANIC!
It is a good idea to bring to the school's attention if your child has issues with their communication at the earliest opportunity so that they can be fully prepared and support your child. They will be able to ease the transition for all of you!
Motor Skills
By this, I really mean, movement skills. They are split into two categories- fine motor skills e.g. small movements such as holding a pencil, threading beads, etc. and gross motor skills e.g. large movements such as walking, jumping, kicking a football. Try to make sure your child is physically ready for the demands of a school day by providing opportunities for them to build their physical skills, walking, running, climbing stairs, jumping and also practise their fine motor movements by threading beads, using scissors, etc.
Academics
It's the last part for a reason… it's probably the least important. There are lots of activities that you can do to support your child's reading, writing and mathematical development (through play! ALWAYS!) but remember it isn't necessary.
In an ideal world, it is helpful of children can:
Recognise their name (just first name and last initial)
Write their name
Understand the concept of number and counting (to 5)
Know some basic shapes and use them
https://isittimetoplay.co.uk/downloads/maths-activities-for-parents/
https://isittimetoplay.co.uk/downloads/preschool-phonics-for-parents/
But none of this is vitally important, because they will get it! Reception Teachers are experts at getting children reading, writing and counting through play based learning.
Ready for Starting School
More than anything, being ready for starting school is about developing children's confidence and security. With this in mind, there are three more practical tips which will hopefully help you to prepare your little one for the exciting journey ahead.
Build Friendships. Try to arrange some summer meet ups with children who will be beginning in Reception at the same time. A friendly face for your child (and you!) on the first day can be very comforting.
Build Familiarity. If you can, walk or travel the route you will be taking to school. Look at the school gates, the entrance to the school and the school logo (it's usually on the wall). You could also try on school uniform and spend time together "choosing".
RELAX! This is the most important one! Starting School is a huge step, it's emotional and a massive change. However, it's also exciting and fun- so embrace it with your child!
Take care!
Any questions I'm always available for a chat over on the socials https://www.facebook.com/isittimetoplay/ or through the website contact form 🙂
Emma xx